Supercharge Your Podcast's Reach and Credibility in Just 7 days!
$495
$97!!
Strictly Limited Exclusive Offer
Unlock the Full Potential of Your Show with Podamp.fm
With just one step, turn your show into a content machine that reaches tens of thousands of people. // Be seen & heard in 50+ major publications (GUARANTEED), and make your podcast work for YOU. // Attract the best guests to your show by offering enhanced coverage of their episode with you.

And many more using our KISSPR Network!
Boost Your Podcast's Visibility and Authority with Podamp.fm – The Ultimate Marketing Service That Gets Your Episodes Listed on 50+ Websites

GUARANTEED

!
In today's fast-growing podcasting world, standing out and making an impact is more challenging than ever. You've poured your heart and soul into creating a show that delivers valuable content to your listeners. But is your podcast getting the attention and credibility it deserves?
That's where Podamp.fm comes in. Our game-changing podcast marketing service gets your episodes listed on hundreds of websites, boosting your show's visibility, reach, and authority.
And for a VERY limited time, you can access our services for just $97 (Normally $495)! Don't miss out on this exclusive offer – act now!
With Podamp.fm, you'll get:
🌟Unparalleled Visibility🌟
Our expert team will get your podcast episodes listed on more than 50 high-authority websites!
🌟Enhanced Credibility🌟
By showcasing your podcast on reputable publishers, you'll establish yourself as an industry expert and thought leader, attracting loyal listeners and high-quality guests!
🌟Increased Reach🌟
With wider distribution across the web, you'll tap into new audiences and grow your listener base, expanding your influence and creating new business opportunities!
🌟Time-saving Convenience🌟
Focus on creating great content while our marketing specialists handle the promotion and distribution, saving you time and effort in the process!
Ready to take your podcast to the next level?
Don't miss this exclusive deal! Sign up for Podamp.fm today and experience the incredible benefits of our premium podcast marketing service – all for just $97!
Claim Your Exclusive Deal Now
🌟🌟Boost Your Podcast's Reach and Credibility for Just $97!🌟🌟
Simple to start, fast results
Having published THOUSANDS of podcast episodes, we KNOW how to drive engagement and coverage for you and your show!
Our proprietary Show Notes format includes internal and external links, timestamps, and episode quotes, and we write for humans AND for Google.
Once approved, we will submit to our KISS Network, which includes hundreds of sites with MILLIONS of collective readers and includes major sites and affiliates of FOX, ABC, NBC.
Start by signing up for this limited price while it lasts.
Choose an episode and submit it using our simple form. Tell us what keywords and phrases matter most to you and your business.
Our team will edit or write your episode show notes to our proprietary format, designed for hyper engagement and maximum Google benefit. Timestamps and external links are included!
Your show's episode will start to appear on major sites within a few days, such as MarketWatch, Digital Journal, Google News, and affiliates of ABC, FOX, NBC, detailed in a full report with links!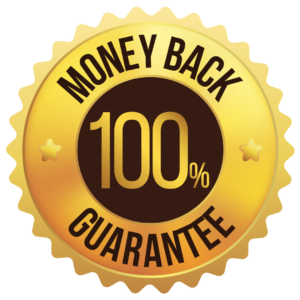 100% Money Back Guarantee
We're so confident in our network of publishers than if your podcast episodes do not appear in 50+ publications every time, we'll give you a 100%, no questions asked, refund!
Our team will turn your episode into a professional piece of content, using our carefully crafted 8-Part Show Notes format. From working on THOUSANDS of episodes we have learned what to write and how to write it so your potential listeners want to read it, and in a way that Google will love. You are welcome to add these show notes back into your podcast or onto your YouTube channel!
DID YOU KNOW that since 2019 Google has been indexing podcast episodes in a number of ways! Google even 'listens' to episodes and produces it's own snippets, something we make easier using our specific format.
While every show and publication is different, below is a very typical example of how great your own episode will look!
PodAmp Clients often turn these into PDFs to share with potential guests, and add to their website.
1. YOUR HEADLINE
Your headline is VERY important for potential SEO / Google benefit, and so we structure these to use the maximum number of words we can, and to promote your most import keywords.

2. THE MAIN CONTENT
This is a professionally written & edited description of what your episode was about. We open with an instantly engaging first line, and not the typical "On this week's episode, Dax talks to Sarah about…".
The notes have your keywords woven in, as well as links from relevant words to your content.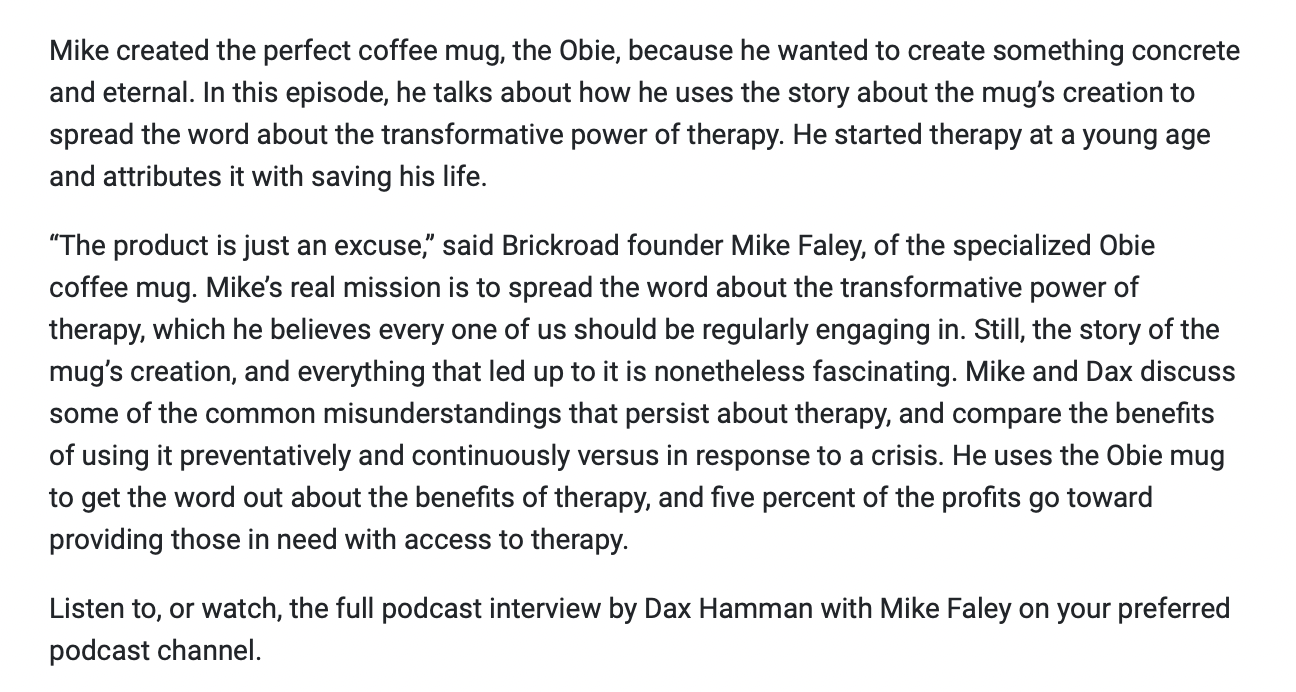 3. EPISODE LINKS
This process is about exposing your show to more potential subscribers, and so we make it easy for them to find you on their preferred platform.

4. SHOW SUMMARY & IMAGE
Let's give them a little, but not too much! A tease is a great way to get them interested enough in the content that they want to click and learn more.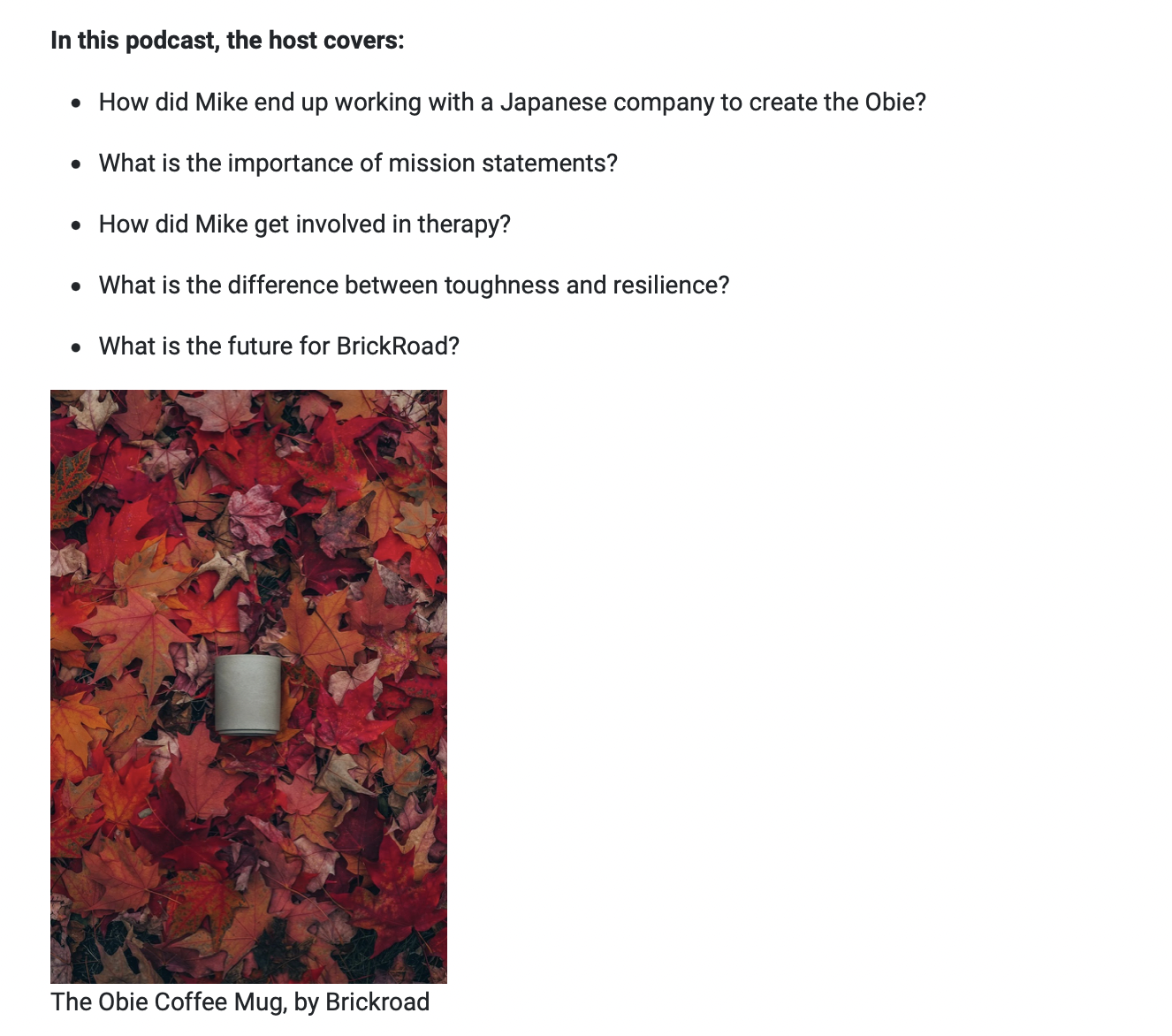 5. QUOTES
This is a key part of the process. Extracting the right quotes matters, as well as the format of timestamping them. Get it right and we see episodes showing up on the first page of Google multiple times with different snippets!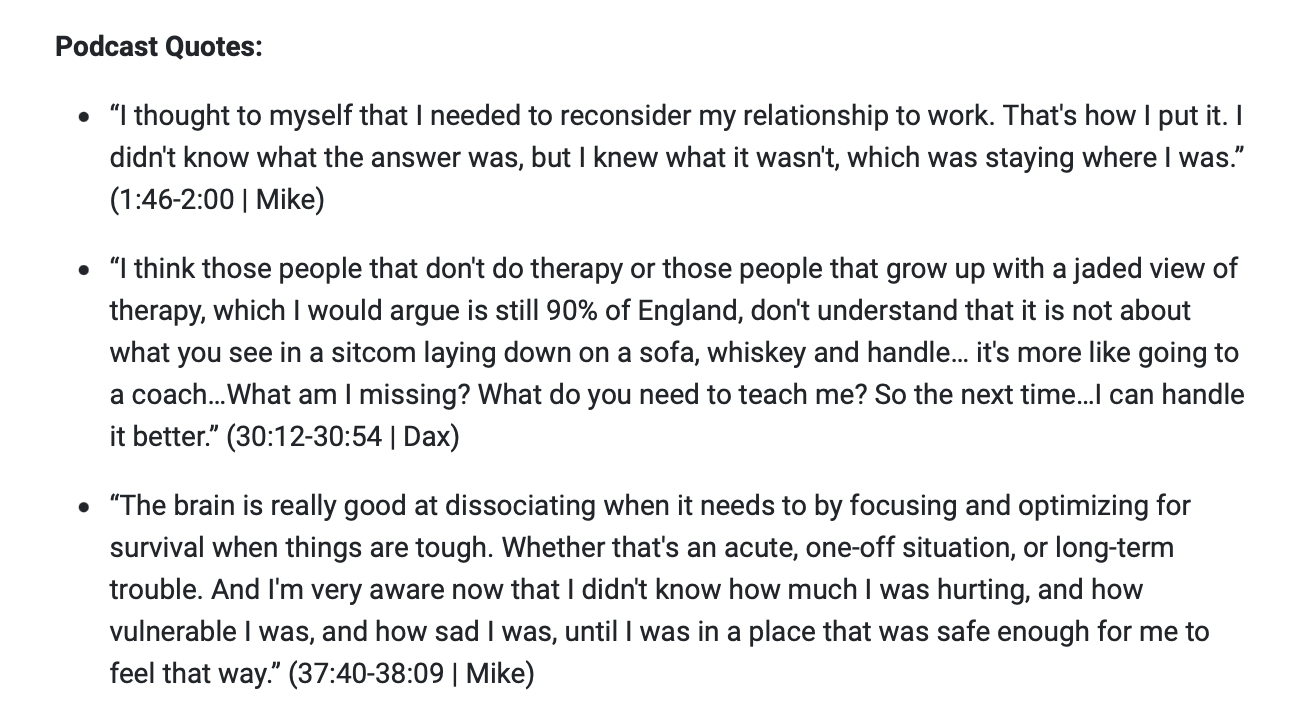 6. BIOS & IMAGES
We will include your guest's bio (if you have guests), and the bio for your host(s). There is a second opportunity to insert images, which Google also loves to index.
This also includes links to your website, lead magnets, and any resources you want to drive attention and links to.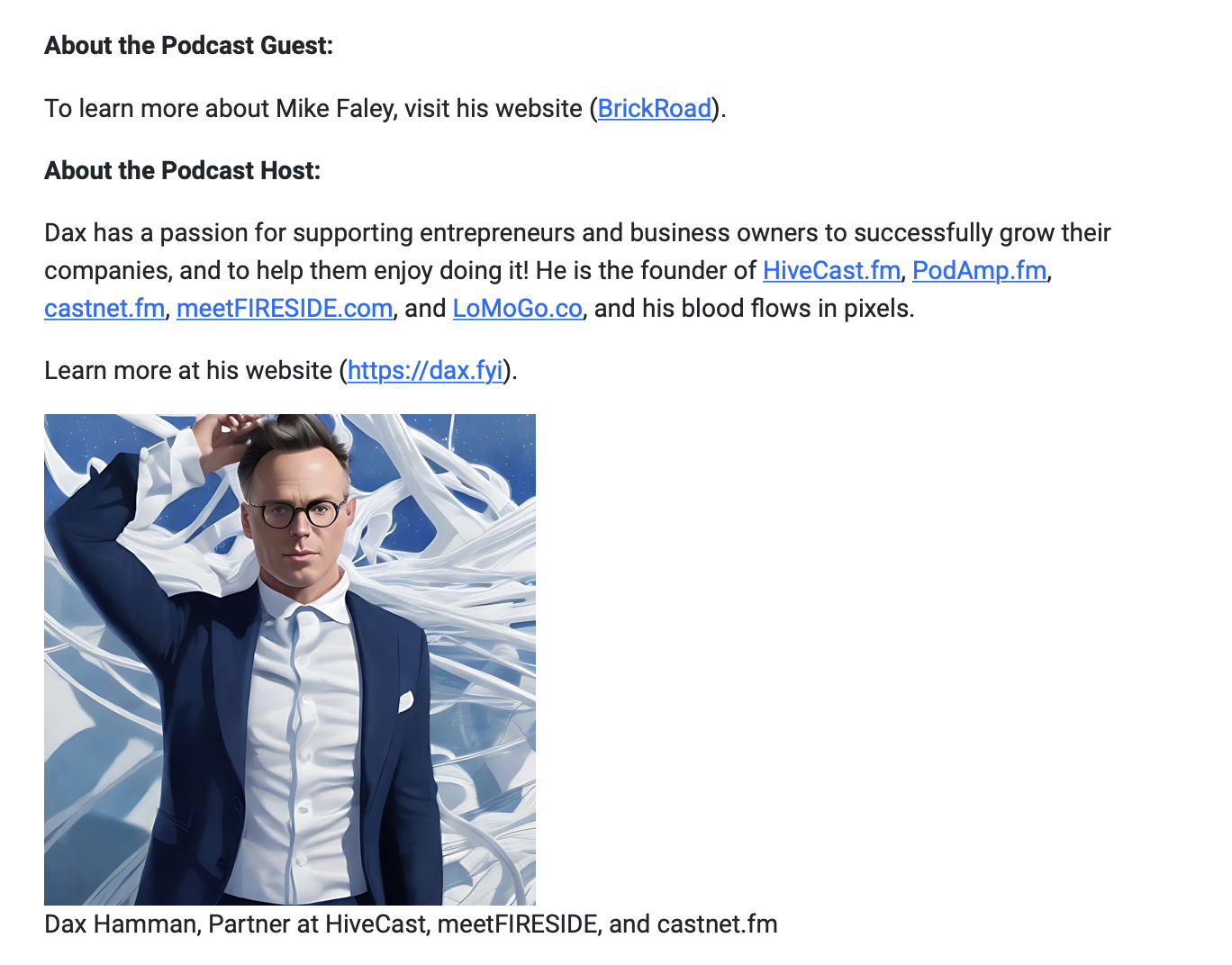 7. EMBEDDED PLAYER
Some readers will want to get to the good stuff right away! We make it simple by embedding your episode right into the content. 
Two things to note: embedded plays don't always show in podcast stats, and not all publishers will include the embed.

8. SHOW SUMMARY & LINKS
Time to wrap up, and for those readers that like to skim and then just get to the summary, we give them another chance to link to the specific episode, or to the show itself.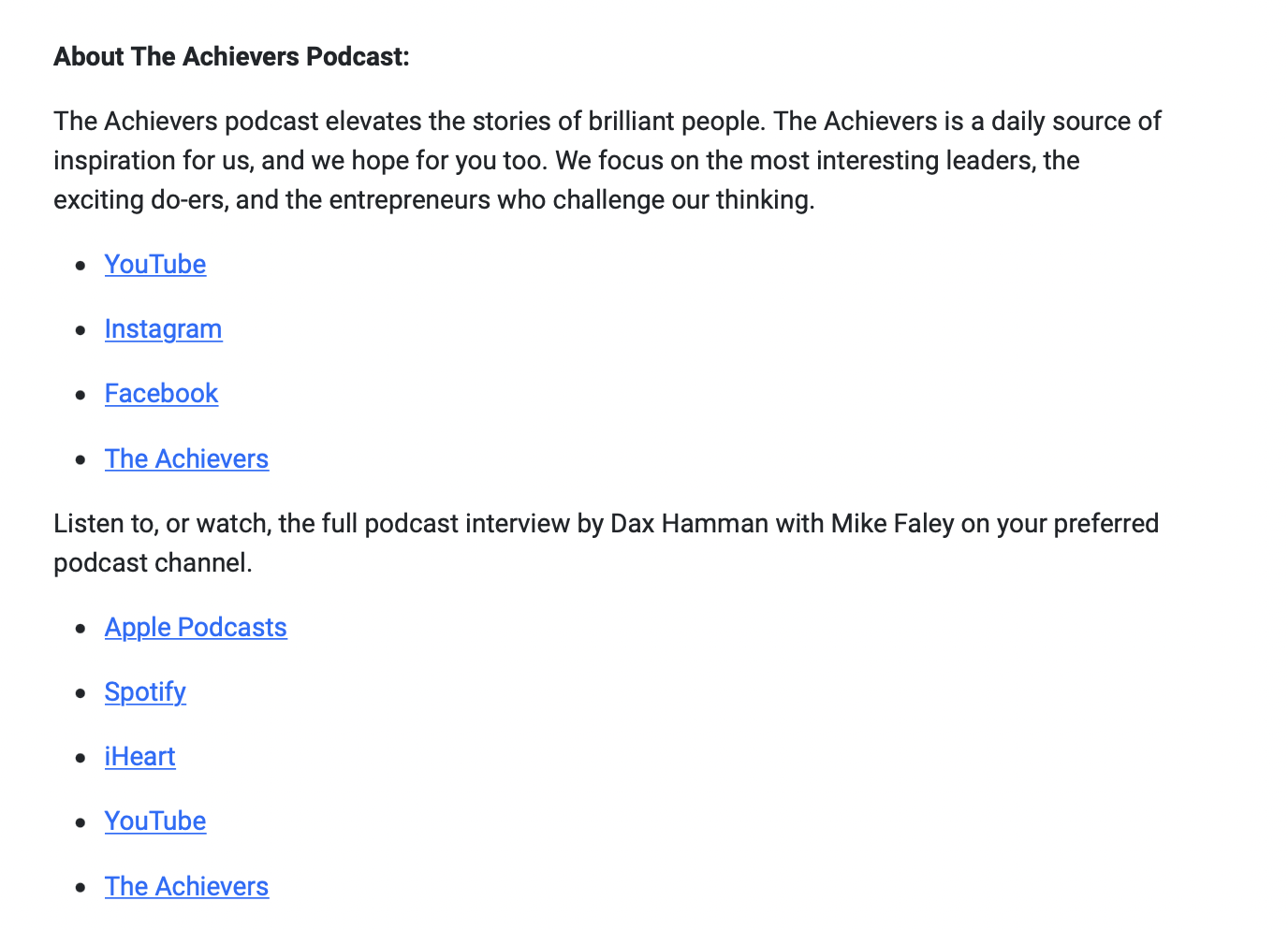 Millions of visitors, 3 major benefits.
As podcasters and podcast producers, we know how much work goes into making a great show. We also know it can be frustrating if you don't feel that show is growing or bringing you the benefits you were hoping for. Sometimes a show needs a little push 🙂
With PodAmp, your show will be packaged up and published on 50+ credible publications like Google News, Associated Press, CBS, FOX, Digital Journal, and many more.
Your podcast will be shown on sites with millions of readers, generating more listeners, and free clicks to your site.
Your links on major sites that Google consider to have the highest authority, including Google News.
Immediate trust from "As Seen On" these major publications can significantly increase your conversion rate!
Q: Who is PodAmp?
A: We're happy you asked! PodAmp is a service designed and delivered by the team at HiveCast, (experts in podcast production), and meetFIRESIDE.com, (fixed price, effective digital marketing for small business owners).
Sarah Lockwood, CEO, uses her 20+ years of experience in big advertising and management operations to create a high-performing team & airtight processes so we can deliver great work for our clients.
Dax Hamman, Partner, also has 25 years of marketing experience, having invested over $2 Billion in ad spend for global brands, before co-founding an ad tech company that invented techniques that companies like Google still use today. He uses this background to understand the ever-changing podcasting landscape, explore customer needs and to evolve and innovate our products and services.
Sarah and Dax have a mission to deliver effective & affordable podcast production services (Hivecast.fm) and podcast marketing tools (PodAmp.fm) to people who are starting or growing a podcast.
Our services are delivered by a team with decades of collective podcast experience – we are editors, writers, producers, designers, account managers, and so much more.
We are based in Denver, Colorado, but our team works remotely, in the US & worldwide.
Q: Do you accept any podcast?
A: No. Each approved show has to meet certain standards and criteria, mostly related to the quality of your show notes.
When you sign up we will review your content and provide feedback as necessary, or talk to you about our team working on your show notes.
We DO accept categories of shows that are often hard to promote in other ways, including those that cover the cannabis industry. We do NOT accept any shows that promote hate speech of any type. Additionally, because of the quality of publications we work with, your show notes can not contain any profanity.
Q: How many publications will feature my show, and for how long?
A: Most of our podcasts are picked up by more than 100 publications, and we guarantee at least 50. Each publication manages its content differently – most will run the content for 12 months, some forever, and some will archive it after 90 days.